Commit Works features in CIM Magazine, article reposted here:
Applications to modernize mapping, monitoring and mine management.
Mobile technology is ubiquitous today. Seventy-six per cent of Canadian adults owned a smartphone in 2016, according to Statistics Canada, and 54 per cent owned a tablet or e-reader. The numbers are virtually identical in the United States. It is no surprise, then, that mobile devices are changing how people work, even in industries as conservative – and as operationally challenging – as mining.
A handful of companies have begun taking advantage of the new technology space. The mobile applications they offer vary in focus, but each aims to help miners get better visibility, make better decisions and improve the efficiency and productivity of their operations – all at prices far below traditional enterprise-level software. That fact promises to help level the technological playing field between large and small operators.
If you know where you are…
Takor Group is an Australian geospatial technology startup. Their primary product, Mappt, is a low-cost, offline-capable mobile geographic information system (GIS) application. Users record data and photos against geographic locations, such as the position of a drill hole, using configurable forms. "It can pop up questions one by one, and as they're answered, it jumps to the next question," said Takor product manager Ciarán Doyle. "In the background, it's saving all that information against that location." Users can create geofenced inclusion or exclusion zones, defining them either ahead of time or by walking or driving the perimeter. "The app addresses quite a few of the pain points that field collectors were feeling," said Doyle.
"The massive time savings" of collecting data digitally, rather than manually with a physical map and pen and paper, is a major selling point, said Doyle, brand and strategy at Takor, as is having all the tools you need in one device. And, he said, "The quality of data has shot through the roof."
It is also a fit-for-purpose solution, like many of the apps available for mining. "One of the reasons that Mappt came about was due to the frustration of using ArcGIS and their mobile application," said Doyle. "It's quite extensive and extremely hard to use and to set up. You couldn't just go out in the field with a professional tool without spending thousands of dollars, and there's a massive process involved." With Mappt, he said, a user can go straight from purchasing the product to being in the field in "literally minutes."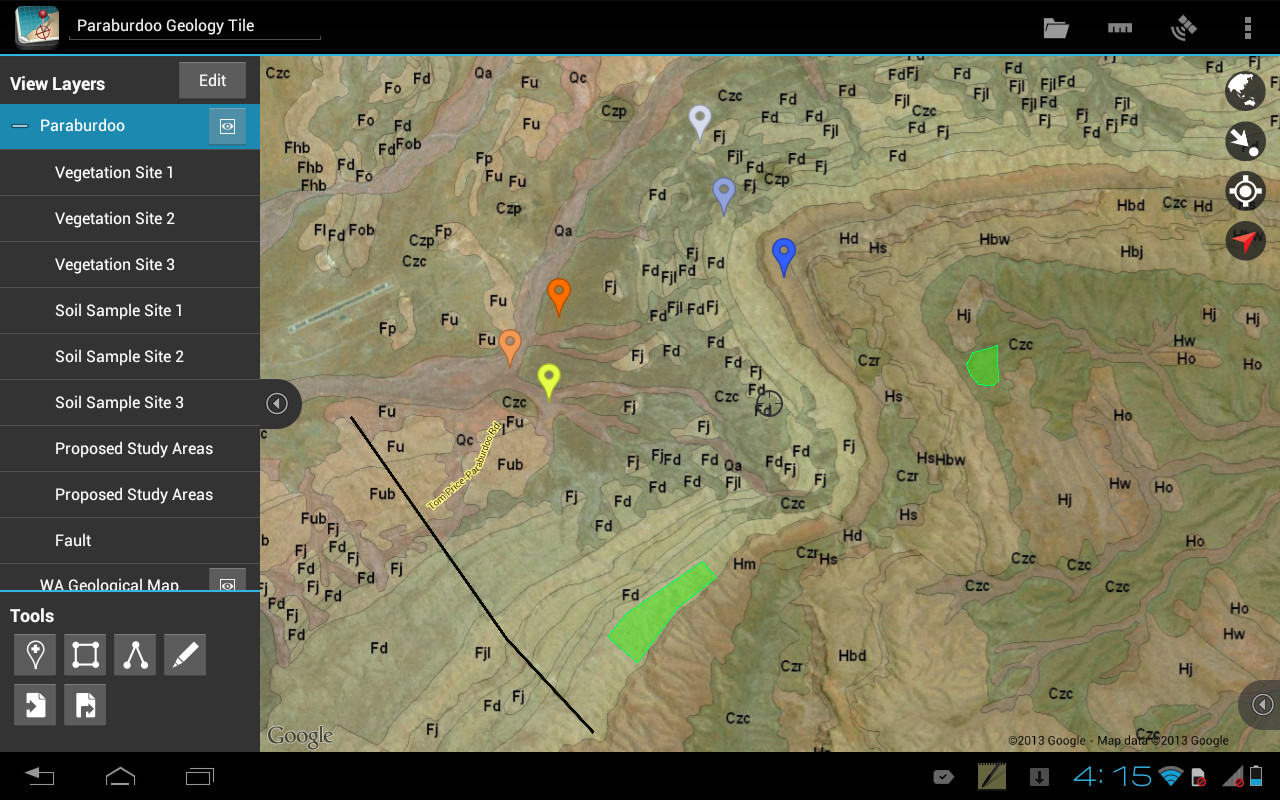 Chris Devlin, director at iSpatial Solutions, a GIS consultancy which acts as "effectively, the in-house GIS department" for a number of small mining companies, often recommends Mappt to clients. "They like it not only for the functionality and the ease of use but also for the licensing model," he said. "It's simple and cost-effective."
…you can plan where you're going
MST Global's Field Analysis & Reporting Application (FARA) uses Internet of Things (IoT) sensors and a mobile app to provide fleet and personnel management to underground and open-pit operations. Sean Dessureault, now chief innovation evangelist at MST, developed FARA at his company, MISOM Technologies, before selling MISOM to MST in late 2017.
---
RELATED:TRANSITIONING FROM INFORMATION OVERLOAD TO EFFICIENT OPERATION WITH SHORT INTERVAL CONTROL
---
"Our tablet for fleet management can be installed in a machine in a few minutes," Dessureault said, and even temporarily in contractor vehicles. The tablets determine their position using GPS or by sensing small, $30 Bluetooth beacons that can be placed around the site – even underground. That location information can be used by the application to automatically track cycles, sequences and even delays and can be leveraged to prompt users for input using location-based triggers. Operators also use the app to fill in digitized forms for things like hazard assessments and pre-operational checklists. Tablet-to-tablet communication means that a supervisor can approach a vehicle and view the forms the driver has filled out, even without Wi-Fi or LTE infrastructure.
"From the operator feedback, they like the digital forms the best. It saves time, and they find the information more engaging," said Dessureault – especially when the feedback is gamified, as FARA can be configured to be. Employees earn points on a leaderboard for the number of cycles they complete or for providing a good safety share, for example. Shift changes can be improved by rewarding operators for getting on their machine before a certain time. Before, Dessureault said, "even if you did write an excellent safety share during your take-five, nobody would ever really know. Miners love having that feedback. They love to compete."
The sudden availability of inexpensive apps and consumer-grade electronic devices has spurred some operators to adopt systems like this for the first time. "Some of our installs were in places that have never had fleet management before," said Dessureault, "so productivity increased significantly."
Put down the clipboard
For other operators, however, mobile technology may augment existing information management systems and make a technician's job easier.
Canary Systems' MLWeb is one such data management system. It aggregates and correlates data from various third-party instrumentation and sensors, data loggers, radars and satellites to provide risk management for projects in numerous industries, including mining, construction and dams. The mobile portion of Canary's software suite is the data collection tool MLField.
"MLField has been designed to support users in cases where they don't have automated instrumentation," said Martin van Balkom, marketing manager at Canary Systems. "A technician would like to go into the field and, for example, go to a piezometer and take a manual reading."
---
RELATED: THE BANDWIDTH BACKBONE

---
"There are still cases where people take the readings manually" with pen and paper, added Andrei Pascu, Canary's Canadian group manager. "Going back to the office, those readings are transcribed into the system or into Excel." Using the app to collect data, he said, is both faster and more reliable – previous readings are shown, helping catch entry errors, and the tablet automatically syncs to the project database once online again, eliminating transcription errors.
"One of the advantages of tying this all together is the speed with which you can now manage the risk of this operation," said van Balkom. "We have a dam client in the U.S. where their data collection in the field, from the time it was collected until the engineer saw it, took about 2 months. That's basically historical data at that point." Even engineers used to getting instrumentation readings 12 to 24 hours after collection could benefit from the increased visibility that digital methods enable.
BME, a South Africa-based blasting company, offers XploLog, which like MLField, is primarily for collecting data in the field. XploLog's data syncs back to BME's blasting design database, BlastMap.
"As the users are logging into the XploLog system the actual loading and timing of what's going on in the field, that information is being sent directly back to the office, so the people in the office are aware of any problem," said BME managing director Joe Keenan. "They might get an alert saying three holes have collapsed, so they can talk about the best workaround. Or they can just log it into the system so the actual design is recorded in the database."
"It increases productivity, but it also reduces the surprises. These tools give you the ability to see the problem before it becomes the problem," said Keenan. Before using the mobile app to record blast data, he added, "it was paper reports or word of mouth. And it was a very imperfect system, I assure you."
Bring your plan to work with you
Eliminating paper from the field makes life simpler for both planners and supervisors. Fewzion is a work management system from Commit Works, which enables short interval control (SIC) on mobile devices in the field. All work on site can be pulled in from source planning systems such as Xact, Surpac, Deswik, SAP, spreadsheets etc., as well as inspections, equipment servicing, training, site development work and the actual production work. It is then planned and can be tracked in short chunks to ensure people can react to problems early enough to reliably hit their targets.
"It contains all the work and targets that planners from each department have agreed to, alongside detailed tasks that crews and supervisors think need to be done for the whole site," said Commit Works CEO Paul Moynagh. "Then the team can start making some trade-offs to land on a plan that is achievable for each shift." By making everything visible to the whole team, detailed planning can take place between silos, allowing everybody to understand and commit to a well-coordinated, holistic plan for the operation.
Moynagh notes that at many sites, supervisors still drive around with stacks of paper detailing the week's work in production targets, Gantt charts, mud maps and even photos of the whiteboard from the production meeting. "If you see these massive piles of paper, you understand why it's very difficult to find the information supervisors need or get good decision-making out of that kind of data," said Moynagh. The mobile portion of Fewzion provides an organized, offline-capable digital view of everything in the system. "A phone or tablet is far more convenient to carry around. And if they're out in the field and see something that needs to be done, they can create a task and suggest a time for it," he added. That task will be synchronized across the whole Fewzion system once the device is online. "Add to our new mapping system (visual ops) and all work can be seen on a map next to the machines and people that will be doing it and any of the hazards that they might encounter."
Users of Fewzion have seen 30 to 50 per cent increases in production after implementation, according to Moynagh. "A lot of the things that used to get in the way, a lot of the annoying waste, now gets planned out before it happens," he said. "All the things that were causing them trouble, which are very hard to pinpoint, just start to disappear with a well-thought-out frontline plan that everyone can see and agree on."
More than mere technology
In true Silicon Valley style, several of the app makers pride themselves as disruptors with a higher purpose. "Most tier ones would never pay $1,000 for something they could buy for $20,000," said MST's Dessureault, only half-jokingly. "Our price point is so low, we can open up the quarry market, the small-to-medium size mines."
"The big thing for us is the democratization of technology," agreed Doyle of Takor Group. "We're reducing or removing possible barriers to entry for people to benefit from technology. Being able to run the app on a cheap Android device and basically have an enterprise-level tool at a bargain basement price, that's what we want."