We are excited to introduce CiteOps 24.10 – where form and functionality combine to mean less clicking, fewer pop-up screens and easier navigation to deliver the end-user experience you expect, and we demand.
Improvements to the CiteOps suite are destined to make usability both functional and highly efficient with search, filter and group navigation on single task planning so much easier through changes to Extended Forms Functionality, PWA Mobile Improvements and our add-on CiteMap.
Extended Forms Functionality – easier navigating and greater visual clarity
This functionality offers time-saving benefits by reducing the effort of entering data and the need for navigating across multiple screens, while enhancing visuals of the form in table view and allowing upload attachments to task form (e.g., photos of defects, work areas etc).
The result? A more comprehensive plan achieved with reduced input.
Rapid access to what you need with Progressive Web App Mobile (PWA) Improvements
PWA mobile improvements will enable rapid filtering and downloading of task attachments for safe execution of tasks. Users can quickly access information by filtering on people, task types, locations, and equipment. With the capacity to quickly download task attachments, permit printouts with attachments and sign-off sheets, as well as displaying task checklist questions in List View (and now Table View), the fullest and latest information is at your fingertips!
Give teams real-time awareness of the latest plan, people, work and hazards on site with CiteMap
With up-to-date data from the ground, everyone on your team can easily locate people and equipment during shifts, as well as being aware of onsite hazards making operations more productive and safer for everyone on site.
Can you imagine the difference this real-time, current connectivity would make to your operation?
Clients who have already recognised this potential and integrated it with CiteOps can now access CiteMap via the navigation bar. For our clients, this worthwhile add-on option will quickly deliver results on your investment boosting both output and safety. For more information please contact Customer Success.
Customise your Taskbar on the Scheduler screen
Improvements to the bar contents display options now mean the user has the ability to configure the taskbars on the Scheduler based on what's relevant to them.
For more details on these updates, check out this video: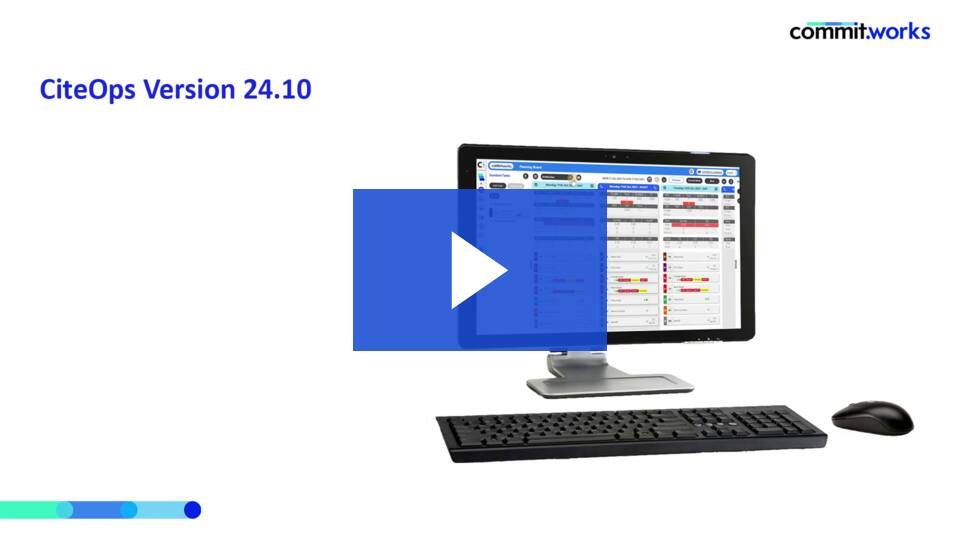 We hope these essential software changes will enhance your use of the software and we welcome any feedback. For more detailed information, please refer to the Release Notes.
Version 24.10 is available to you now. Contact us via support@commit.works