Know your Team with the new Skills Validation feature
Having the right person, in the right place, at the right time is crucial to achieving the best outcomes for your team. Our Skills Validation feature has been developed so that Planners & Schedulers have increased awareness of the skills and qualifications their planned work requires and whether or not a crew possesses these skills. This feature is not intended to replace your existing Skills Management software.
The Skills Validation feature of CiteOps 24.11 holds all the relevant data, will help achieve this and bring several on-site benefits including:
Improved planning quality
Increased safety standards by executing shift activities to ensure the required personnel
Reducing downtime by assigning skilled personnel with knowledge in operating particular equipment, or executing special activities (e.g. work in confined space)
Skills Validation allows you to:
Import Skills
Details of each employee already on record can be easily imported as CiteOps Skills using a simple excel sheet.
Create Skills
Skills Validation can be regularly updated to add new skills to the list, and maintain currency as new staff come on board or as existing staff acquire further skills and qualifications.
The ability to set required skills to Equipment and Task Types
Displaying Skills
The Task Context menu shows Assigned Equipment options and Assigned People options for ease of navigation and the Shift Schedule screen creates mobility enabling the scheduler to access the big picture more easily.
If the skill requirements for a particular task cannot be met, not only is a visual alert displayed on the task bar (in the form of an orange border and exclamation mark) but hovering over the alert produces a tooltip with issue details and a possible resolution.
We are very excited to bring you these latest software updates and hope they will further enhance your user experience.
As always, we welcome your comments and feedback. For more detailed information, please refer to the following Release Notes and video overview.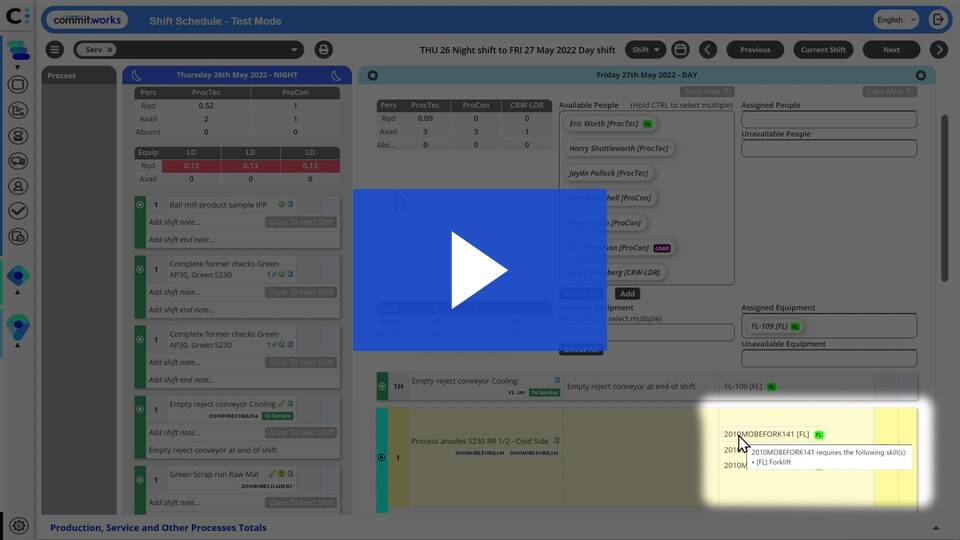 Version 24.11 is available to you now. Contact us via support@commit.works